Laredo ISD Career, Education, and Technology (CTE) Department has worked hard over the last several years to expand opportunities for students in the workforce. Currently, 28 CTE students are participating in LISD's Internship Program with some of the district's business and industry partners.
LISD has been working closely with Laredo College and local business owners to be able to provide opportunities for students not only to gain their license, certification, or associate degree but at the same time gain real world experience through LISD's Internship Program. LISD's business and industry partners include Alathif Aesthetics, Casa Blanca Specialty Coffee, Edible Arrangements, Fantasy Nails, Habitat for Humanity, La Vida Fit Meals Express, Laredo Animal Clinic, and Theo's Barbershop.
LISD Superintendent Dr. Sylvia Rios and CTE administrators recently visited the students at their job sites for a first-hand look at the LISD Internship Program and to personally thank our business partners.
"We want to commend our CTE Department as well as our Schools of Innovation because there's a very tight bond and partnership that we will continue supporting," said LISD Superintendent Dr. Sylvia Rios. "We want to encourage these partnerships and that's one of the reasons why we really are thankful to all the business owners and to all the partners that we have in our community. Every partner opens a world of possibilities for our students."
Students selected for the LISD Internship Program must participate in a program of study or a two-year high school CTE career prep program where they must complete practicum hours. Upon completing the hours, students must pass a written exam and a practical (skills) exam.
The students participating in the LISD Internship Program are Martin High School's Cantu Early College veterinary students Danrick Cardenas, Jessica Contreras, Alayna Esquivel, Carlos Gonzalez, Jose Gonzalez, Jubal Gonzalez, Ashley Jimenez, Anthony Lara, and Kimberly Zavala, Laredo Animal Clinic; Martin High School culinary arts students Maricela Lopez, Casa Blanca Specialty Coffee; Leyla Alvarez and Elizabeth Bedarte, Edible Arrangements; Melanie Lopez, and Aislyn Hernandez, La VidaFit Meals Express; Cigarroa High School's PTECH Academy students Rolando Almeida, Carlos Benavides, Roxana Espinoza, Erick Gonzalez Burciaga, Adryan Landeros, Daniel Mejia, and Victor Resendiz, Habitat for Humanity; Nixon High School's BIPS Academy cosmetology and barbering students Adela Mendez and Julieta Ramirez, Alathif Aesthetics; Branden Hinojosa, Luis Sanchez, and Ruby Inclan, Theos Barber Shop; Kristyne Garcia and Breget Lopez, Fantasy Nails; and Nixon High School education students Alexis Castillo, Alonso Alvarez, and Amanda Rodriguez, Milton Elementary School; Kimberly Eligio, Juan Salazar, and Stephanie Velazco, Alma Pierce Elementary School; and Cigarroa High School education students Tania Carmona, Andrea Reyes, Maria Figueroa, Mariana Cuellar, and Sofia Hipolito, Ligarde Elementary School.
"On behalf of our school district I really want to thank the students for being part of our pilot program. I'm so happy that they are a part of this initiative because they are like explorers, the pioneers of our Internship Program." said Dr. Rios. "I'm very proud of our students for being part of the program and thinking about themselves and their careers."
"Thank you to our business and industry partners who have kindly opened the doors for these young students so they can teach and mentor them," said Rogelio Garcia, LISD Executive Director of CCMR, Advanced Academics and Schools of Innovation. "They have done everything to accommodate the timing for our students and set up appointments at times when the interns are available."
BIPS students at Nixon High School, who have obtained their Cosmetology and barbering Operator License, are working at Alathif Aesthetics, Fantasy Nails and Theo's Barbershop. The cosmetology students are under the direction of Cosmetology Instructor Marty Rodriguez and the barbering students are led by Barbering Instructor Ivette Diaz.
"It's been a great opportunity and I feel privileged to be here," said Julieta Ramirez, NHS BIPS Cosmetology student and intern at Alathif Aesthetics. "I'm learning way more things like what people want in a salon. It's a good career. I love it and being here makes me love it even more. They are teaching us things I didn't know and I'm happy to be here."
"It's a great program for the students because during high school they can graduate, and everything is paid for them. They can already graduate with their license and that's amazing," said Claudia Escobedo owner of Fantasy Nails. "I'm so happy that we got approached and we are partners. "We're very happy to have the girls here. I remind them that you never know when you're going to use your license. You might not use it all the time, but it's always there and it's a great thing."
NHS BIPS student Kristyne Garcia, who is doing her internship at Fantasy Nails, mentioned there is a big difference between learning at school and learning at her internship job.
"In class it's fine to make mistake because you're practicing. But when we come here, we must already know what we're doing and it's very different from real life and school," said Garcia "So, I think it was a very big shock when we're learning things that we didn't really learn in school and that we can learn here thanks to the owner."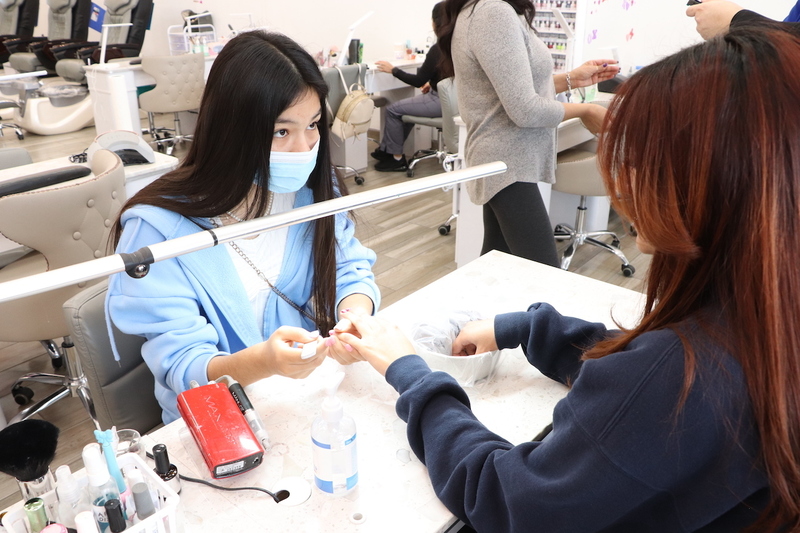 Cantu Early College High School (CECHS) students located at Martin High School, who are in the process of becoming fully licensed or certified Veterinary Assistant's, are taking vital signs, and observing surgeries at Laredo Animal Clinic. The agriculture students at Martin High School are being taught by Veterinary Science Instructor Kassandra Garcia.
"I'm so thankful to my science teacher Ms. Garcia for this opportunity. It's been my dream to become a veterinarian doctor and now I'm getting one step closer to my dream of becoming a veterinarian," said CECHS student and Veterinary Assistant Anthony Lara. "Being here has made it 100 times better. I have always wanted to help animals. It's been my passion since I was a kid."
Also, students in the Teaching and Education pathway at the BIPS Academy at Nixon High School and CIgarroa High School are assisting in the classroom at Ligarde, Milton, Alma Pierce, and Zachry Elementary Schools. The Nixon High School BIPS Education Instructor is Marilou Diaz, and the Cigarroa High School Education Instructor is Elizabeth Garcia.
NHS BIPS student and Milton Elementary School teaching assistant Amanda Rodriguez, who hopse to become a teacher in the future, is using the Internship Program to hone her teaching skills.
"It's just been a great opportunity. Being here in the classroom has really helped me learn a lot about teaching," said Rodriguez. "I have been taking extra classes through Dual Enrollment and I've learned a lot about how to become a teacher and how to help others how to teach others as well and I thank Milton Elementary School so much for letting me come here and experience it hands-on."
The PTECH students from Cigarroa High School that achieved an HVAC Level One Certification through Laredo College, are going to Habitat for Humanity and they're assisting in building homes for families that are in need. Oscar Ramirez is the PTECH Instructor at Cigarroa High School.
Martin High School Culinary Arts Program students are putting their culinary skills to work, with Casa Blanca Specialty Coffee, Edible Arrangements, and La Vida Fit Meals Express. The Culinary Arts Program from Martin High School is under the leadership of Anna Resendez.
"We want our students to leave our schools prepared for either the career world, university, or military readiness," said Dr. Rios. "We've done a great job! We can boast that this is the only school district that does this in Laredo from school to career and from school to university and from school to military readiness. So, we're very proud."
When asked what the internship program needed to change or add the students all said more hand-on experiences. "Definitely the experience. The lessons I got in class helped but getting that experience is a whole different topic," said Danrick Cardenas, Cantu Early College High School student and Veterinary Assistant. "I believe more time on the weekends or after school where we would be able to come here and have more hands-on experience for those students who are more passionate and would like to continue along this path."
The future continues to look bright for LISD students, as the district is currently working on placing students who are newly and fully Certified Insurance Service Representatives with business partners in the International Trade Industry. Next year, there are plans to certify students in accounting.
LISD will also continue its Summer Internship Program, where students work as interns with LISD departments such as the Child Nutrition Program, Division of Communications and Media Services, Division of Operations, Division of Plant Facilities, Human Resources Department, IT Department, and the LISD Police Department. External student internships will be provided by community and industry partners. Students will earn minimum wage and work four hours a day Monday – Thursday, with shifts in the morning and afternoon.
For more information on LISD's Internship Program or if you would like to become an LISD Industry Partner, please contact LISD College, Career and Military Readiness Coordinators, Cindy Dominquez at 956-273-1864, Mayra Garcia at 956-273-1863 or Yvonne Degollado at 956-273-1744.